Welcome To The Cornerstone Macro Portfolio Strategy Portal!
Our Strategy Portal is a complement to the team's research product. The portal provides interactive, under-the hood analysis of what is driving market trends below the surface. In addition, the portal includes a myriad of "outside-the-box" risk-management and stock-selection tools for investors with any mandate.
If there's something specific you're looking for that's not listed or if you have any questions or suggestions, please reach out to us at strategy@cormacteam.com. We love to hear feedback!
Monitoring the Markets: Dashboards
Our 
Earnings Dashboard
 includes must-see tables and charts for investors throughout earning season. The EPS dashboard includes progress reports, EPS estimate data, sector and style breakdowns and more.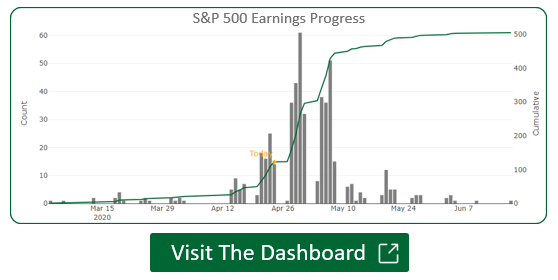 Our 
Factor Dashboard
 is an interactive website that allows you to look at sector-neutral factor performance from various perspectives. It provides daily updates to factor performance for several market indexes and for each individual sector. The dashboard also shows how factors interact with each other and how correlations amongst factors change over time.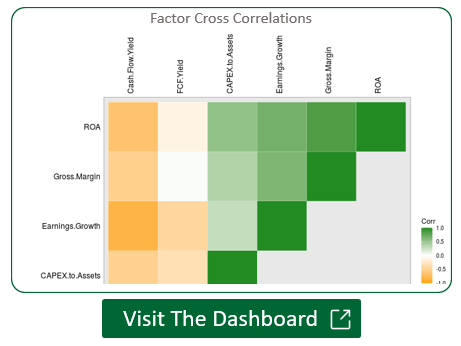 The 
Portfolio Strategy Chartbook
presents the latest performance data (updated daily) for size, style and sector universes to help investors easily see what is driving market performance within their mandate.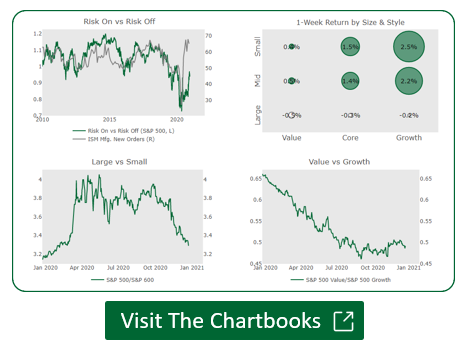 Our 
What to Watch dashboard
 allows clients to easily monitor a curated list of the macroeconomic and market series we are watching most closely.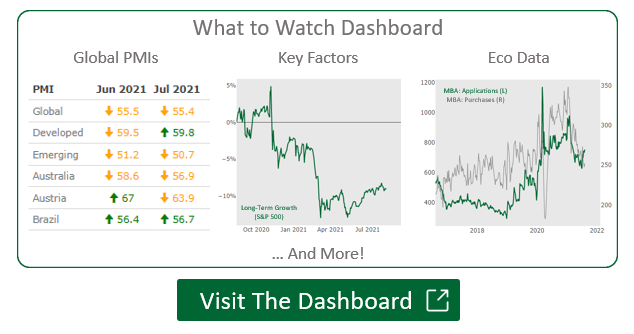 Our Model Dashboard is an interactive tool that allows you to dig deep into our quantitative models. The tool allows you to interactively screen for stocks with specific rankings for a given model, see how stock rankings have changed over time, and understand the underlying reasons behind your stocks' rankings. Ranking data is updated weekly and model performance is updated daily.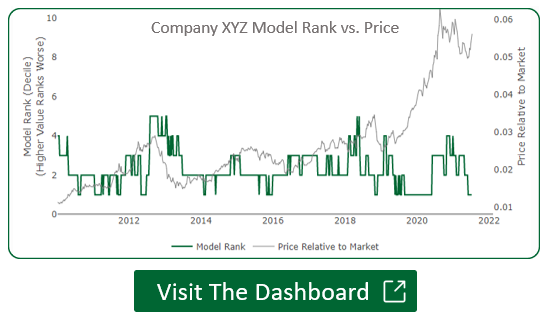 Our Dividend Portal tracks companies that have raised and cut dividends. The portal includes the Ability-to-Sustain screen which identifies stocks that are most at risk of cutting their dividends based on potential inability to cover payments with cash flow.
Click here to read our primer report.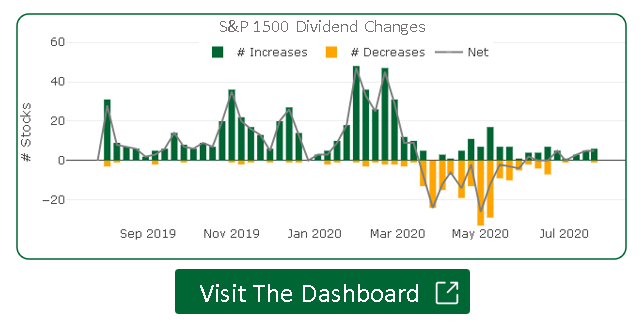 The
"What's Priced In" dashboard
tracks the performance of stocks most/least sensitive to various macro variables (i.e., PMIs, CPI, rates, etc.). It evaluates analysts' 12-month price targets for those baskets of highly correlated stocks to determine what level is "Priced In" for the macro variables in 12 months.
Click here to read our primer report.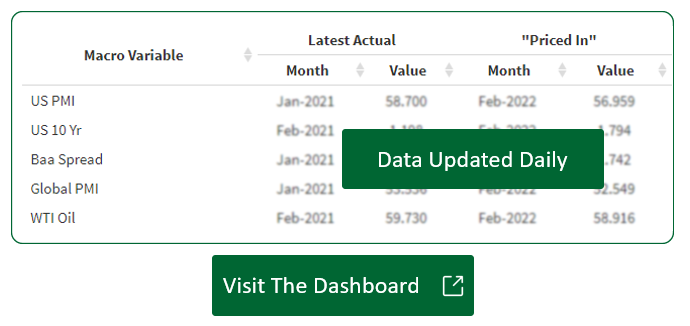 Our Global Dashboard tracks a whole host of economic and market data in major markets around the globe. Use this dashboard to track PMIs, earnings, style, sector and factor performance within individual countries and regions. It also contains up-to-date screens for our quantitative models in each country.
Click here to read our primer report.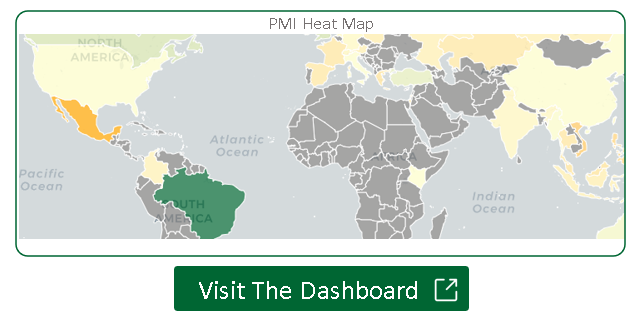 The
"Ownership" dashboard
allows investors to monitor the performance of stocks that are most owned by different types of investors. Each chart looks at the top decile (150 stocks) from the S&P 1500 for each category of ownership, from various types of institutions to retail investors.
Click here to read our primer report.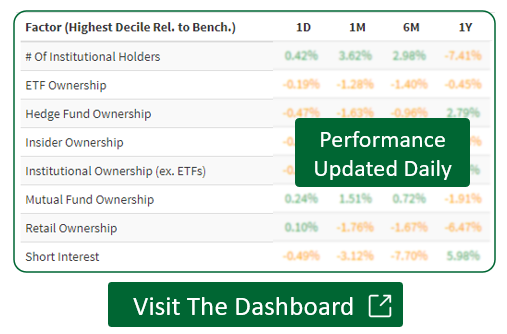 Portfolio Risk Management Suite
Our
Macro Aware screener
helps investors better understand the macro sensitives of their portfolios and interest lists. The tool calculates correlations of stocks, industries, and ETFs to over 60 macroeconomic variables. In addition, this excel-based tool includes factor and performance analytics.
Click Here For A Video Walk-Through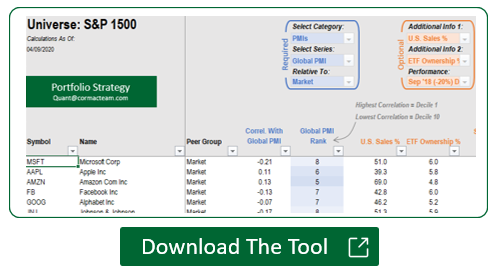 The
Macro Margin Sensitivity Tool
looks at how sensitive margins are to various macro variables. The tool calculates 5-year correlations of the year-over-year change in company operating margins to over 60 macroeconomic variables (i.e. CPI, PMIs, Rates, Etc.). As inflation pressures heat up, this tools helps identify which names are likely to see the most margin pressure and also those that are likely to see margins improve.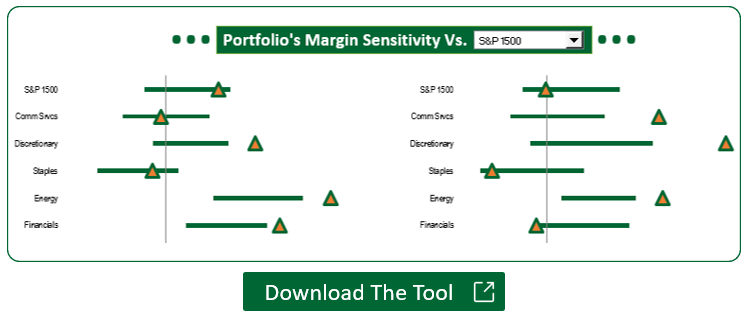 The 
Foreign Sales Barometer
 identifies stocks with high and low revenue exposure to foreign countries. This barometer allows investors to see how their portfolio's foreign exposure compares to a chosen benchmark.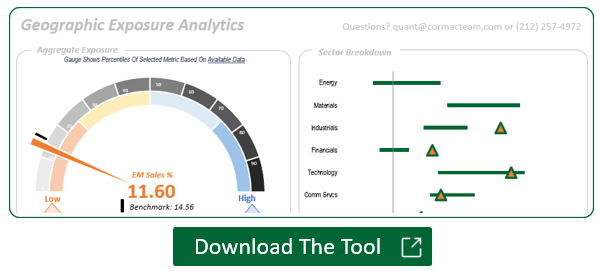 The Factor Screen is a screening tool that allows investors to identify the stocks that best embody various factor traits. The interactive tool allows investors to select a factor and see which stocks fall into each decile.
Click here to download the latest screen.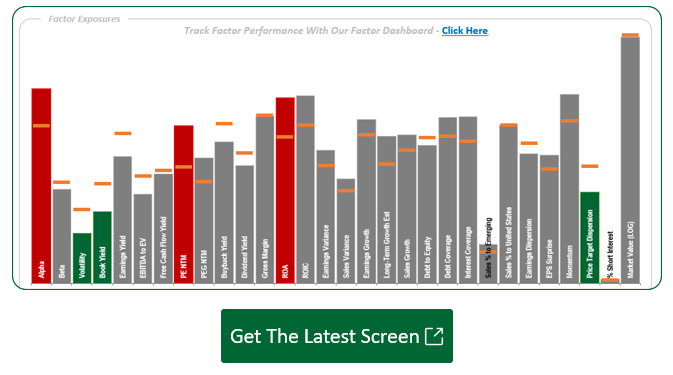 Quantitative Stock Screens
As always, please feel free to reach out to us at strategy@cormacteam.com if you're looking for something specific or have any research requests or general feedback for the Strategy team.  Thanks!